Are you struggling with understanding what is E&S/Sustainability?
Author: Ngo Minh Khue, Sustainability Officer, Mekong Capital
Mar 30, 2021
—–
You are not the only one.
—–
You probably remember me from a recent (Environmental and Social) E&S audit, starting with a long email asking you to fill out a long list of questions and providing a bunch of supporting documents. Maybe you don't even know what E&S audit is really about and you tried to quickly power through the audit just to get it done because it is part of the job. Maybe when you hear "E&S", you immediately think boring compliance stuff with a bunch of legal jargon that you don't really understand.
When I say that E&S is surely not that complicated, you might not believe — not yet. But let me tell you a story, because, well, you are not the only one.
—–
I came to the US when I was 17 to experience the American culture as a high school student, to perform well academically, and give myself a good start to attend a good American college.
A part of that experience was to work with my academic counselor to take 7 classes that fulfill all needed credits for me to graduate. One of those 7 classes was Advanced Placement Environmental Science (APES).
Even in the first week of school, I had trouble with this class. Everything was new to me from the language I did not grow up speaking, to new concepts I had never known about. Along with that were continuous assignments: to read 1 new chapter introducing a new topic of Environmental Science (90 pages of a textbook) every week. Weekly tests were the ones that gave me the most anxiety (because I knew I would be tested on things I couldn't understand). Compared to my classmates, I was very slow. Not knowing what actually was going on in class, I was simply lost. Most of the time, I was just copying what others around me wrote or said and hiding in a corner.
Thus, unsurprisingly, I got very bad grades on my tests (to me a C was a bad grade). The sadder part was that my teacher didn't think it was a big deal (apparently, it is normal there). For an A-student, overachiever like me at that time, that was not acceptable. I felt frustrated with reading books I didn't understand, lonely in group activities I couldn't figure out how to participate in and worried every time going into test sessions.
A week before the deadline to add or drop classes, I asked my counselor to see if there are other classes I can switch to. At that time, other similar level classes are filled up. I wouldn't be able to fulfill all the needed credits if I decided to drop the class. But I don't want to end up with a big C because I just… can't. He told me to give APES another try for another week.
A week later, not only was I still struggling by myself, but my grade also went downhill to a concerning point. The class and my classmates kept going to do fun activities, having great debates about environmental topics — all, of course, without me. Feeling so lonely, angry, and frustrated, I was disappointed to the point that I wanted to give up. I wanted to skip class every time the bell rang for the 6th period. Friday, I told my teacher that I want to drop APES, knowing that I won't be able to graduate at all since I don't have enough credits.
Shocked by my statement, my teacher finally realized what I went through. She was so empathetic. She said: it is only normal for international students to struggle with the class, the new language, the studying style. She supported me by going slower in class and ensuring that I understood the main idea of each chapter back to the very beginning. She taught me to realize the patterns, to connect the dots of what I observe every day in life to what is going on in my APES textbooks.
That significantly changed my view of APES. Yes, I still didn't speak English as my first-born language. However, I always knew about how rain forms, how water flows from highlands through rivers to oceans, I always knew about how humans get our food from agriculture and raising cows and chickens. That opened my eyes to a whole new world. As I saw the lessons beyond textbook chapters in a new language to read, I join more group activities. When I could make the connections between what I already know and what the class was introducing, I started to care and became eager to learn more about the cause of climate change and why preserving nature is so important for humanity.
This transformation not only carried me through the APES class and changed my grade from C to A but also reformed who I am, what I truly care about in life. Now, I believe that for my future, my children's future, my grandchildren's future, and 10 more generation's future to be beautiful, I have to act consciously about the fact that nature and humans are always together sharing the same picture.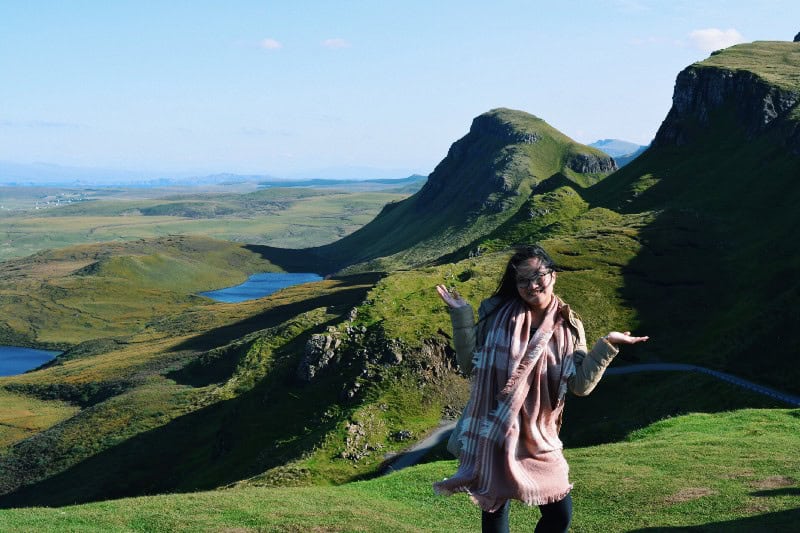 The E&S world might feel like a new class/subject for you, with boring homework (long questionnaires), in a totally new language (full of legal jargon). It might frustrate you because you have to be compliant with the regulations and standards. Thus, you might not want to even bother changing the context of how E&S occurs to you. You might fill out the reports/questionnaire with the mindset of JUST GET IT DONE.
However, like any new language, it takes some time. I want to invite you to slow down on reading your long audit questions and start any E&S projects by asking "What is the intention of this?" Then try to connect the things you already know from your everyday work that might already exist (Internal Labor Rules, your Firefight, and emergency response, save electricity, resources, customer protection) to the E&S standards. You might just find that you will experience a different relationship with E&S. E&S lives in you and your business, one way or another.
"E stands for Environment — the land you operate your business on, the water you consume, the air you breathe, the resources that create energy powering your machines. S stands for Social — the people work for you, your customers, your clients, your suppliers."
The main concept of this is simple: mitigate the unwanted risks and negative impacts, and initiate positive impacts to the environment and people around you and your business. Simple. It makes sense. And it connects to everybody's everyday real lives.
Do you want to stand for a better understanding of E&S? I'm here and I can help. Let's have a conversation so I can listen to what you already know and have experienced in the past, and what you want for your future. Then you can choose what you do in the present. Let's start from there and go through the journey together. E&S may feel like a new class in a new language, but I am here to let you know that you are not alone like I was in my APES class.
Together, we can reform who we are and how we impact our future, our children's future, our grandchildren's future, and 10 more generation's future!
---
Click below to subscribe to Mekong Capital's quarterly newsletter.

Mekong Capital makes investments in consumer-driven businesses and adds substantial value to those companies based on its proven framework called Vision Driven Investing. Our investee companies are typically among the fastest-growing companies in Vietnam's consumer sectors.
In January 2022, Mekong Capital founder Chris Freund published Crab Hotpot, a story about a bunch of crabs who found themselves stuck in a boiling pot. The colorful cover of "Crab Hot Pot," complete with expressive cartoon crustaceans, looks like a children's tale at first glance. But as one continues reading, it becomes clear that the work has an important message about organizational transformation, leadership and focusing on a clear vision for the future.
The book is available on Tiki (Hard copy): bit.ly/38baF8a (Vietnamese) and Amazon: amzn.to/3yWunzG (English)
Follow us on LinkedIn: