How I experience power by looking within
Author: Nguyen Vu Nghia – Co-Founder & Chairman of Vua Nem
———————
————————
From 2017 to 2021, our biggest and proudest achievement was making Vua Nem become a profitable company, despite the fact that 2021 was the longest COVID epidemic year resulting in our stores being closed for several months. Even worse, at one point, up to 90% of our stores were closed temporarily. However, above all, Vua Nem had witnessed strong growth in 4Q21, with 100% YoY revenue, leading to the profit earnings of 2021.
In this journey, I've experienced for myself that the success of a company starts from the leaders being the owner of the business results. That is simple to say. However, that truth was not at all easy to recognize especially when our company was struggling and we felt like the victims of outside circumstances and challenges.
Here is my story.
———————
After Mekong Enterprise Fund III's investment in 2017, Vua Nem entered a new journey with many promising opportunities. As founders, Tuan Anh and I were so excited to make Vua Nem the leading brand for sleep solutions, bringing good sleep to millions of Vietnamese. The future looked bright, and we were both enthusiastic and optimistic.
We tried lots of ways to expand our business while keeping the bottom line sustainable: We opened many stores. We hired different outside experts. We deployed many Digital Transformation projects. However, no matter what we tried, the business performance was not yet up to our expectations.
As founders, Tuan Anh and I felt the need to put our attention on external interventions — including Mekong Capital and its investment. Somehow, the investment bothered us. Vua Nem no longer was 'our house' alone. Suddenly, there was a new co-owner. It felt like a heavy stone in my stomach every time we reported to the Board of Directors our results. Since then, the meetings became tense. I lost confidence and saw myself in a world of being 'victims' of circumstances. Along the way, my management team also felt the pressure.
Day by day, there were no resolutions for us to work together and partner with Mekong Capital's team in a good way. One day, as everything was going against me, I wanted to propose my resignation to the Board of Directors.
Unexpectedly, something magical happened instead…
Over the same period of time, Mekong Capital also appointed a new Deal Team and we seemed to work together quite well. Slowly, we re-established our work relationships when the Board meetings gave space for us to discover and see things differently. But still, this did not seem to get to the root cause of Vua Nem's under-performance.
In one conversation, instead of searching for external resources to help us through, the Deal team invited us to look at ourselves and how we could elevate the performance of our team. We then realized that the vision and mission of Vua Nem created by Mekong Capital and the founders back in 2018 haven't really lived in the whole company.
After many further discussions, we aligned to hold a 3-day event to re-birth the Vua Nem Vision. In October 2020, Tuan Anh and I sat down together with the other 28 members of our management team to co-create a new Vua Nem vision.
During the event, after Tuan Anh took responsibility for what happened in the past, the room exploded as the future revealed itself vividly. Everyone's eyes were sparked as they realized that they all committed to making the company profitable in 2021 and beyond. For the first time in 13 years at Vua Nem, Tuan Anh and I could feel there were 28 other people sailing the ship together with us towards the same destination. Vua Nem was reborn. And I could feel so strongly again our love for the business we started with our bare hands and our dedication to millions of good sleep in Vietnam.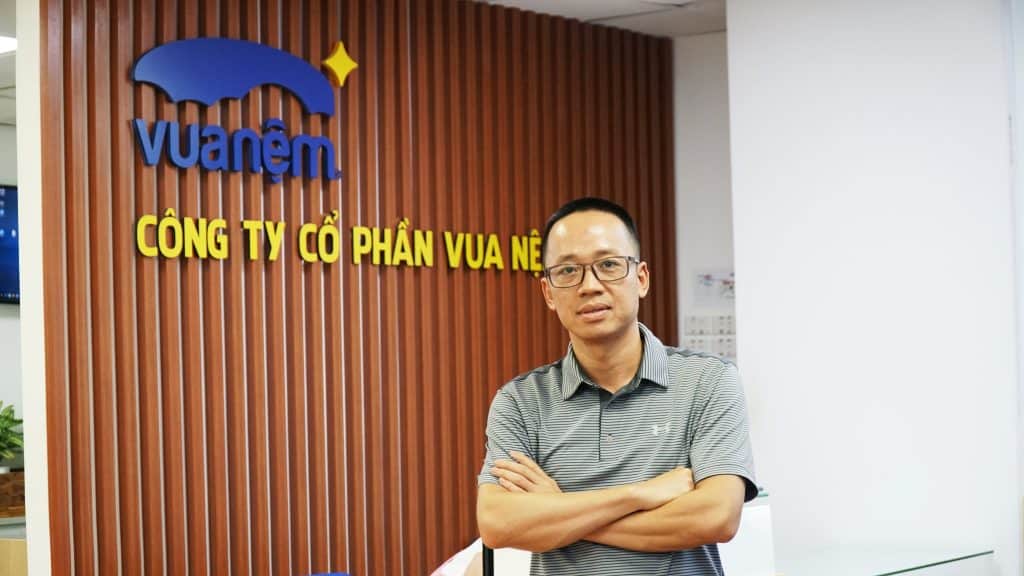 After the Vision Days, I switched to choosing the view that 'I am the one who owned the vision'.  I experienced the power and discovered what it is like to be 'I am the source of the problem'. I was the source of the problem not because I was wrong or others were right. I realized that it was no longer important who won and I was the source because I had full power and control of who I am as a leader. The key was to find the best path we can take together to realize the vision.
Following this new approach, I could see the relationship between me and my associates, employees, and partners has also improved. Whereas before, I only believed in myself and somewhat looked down on the opinions of the team. Now, I listened to their experience, and nurturing the work connections becomes part of our culture. It was like a chain reaction, I started to see more key managers in the company step up to focus all their time on creating the future for Vua Nem. New ideas were raised more openly than ever.
And one of the biggest discoveries from the management team was that our human resources had not been able to meet the needs of our new Vision. Therefore, my HR Manager at the time, who had committed to the Vision that was bigger than herself, stepped up to lead the recruitment of her own boss – HR Director!
After the new HR Director joined, she constantly closed the gaps in the management by recruiting a new CFO, new Marketing Director, Sales Director and Technology Director. Every new C-suite level was a high-performer and contributed greatly to growing Vua Nem despite the pandemic stress. 2021 is the first year that Vua Nem achieved profitability, on track to achieve our committed Vision 2023.
Looking back, in 2021, even though the epidemic "surges" and the results affect our business, I experienced peace and confidence in looking at problems inside out. The problem we had to overcome was not some outside circumstance or forces. We needed to learn a simple truth: The success of our company starts from the leaders throughout the company committing to 'because in the matter' of our business results. Our Vision Day event made that understanding possible.
Now, as 2022 begins, I try to listen more, transmit positive energy, empathize and respect the team's decisions. And from then on, I feel the change of the people around me, inspired and filled with optimism, and ultimately, the business performance was elevated.
28 February 2022
---
Click below to subscribe to Mekong Capital's quarterly newsletter.

Mekong Capital makes investments in consumer-driven businesses and adds substantial value to those companies based on its proven framework called Vision Driven Investing. Our investee companies are typically among the fastest-growing companies in Vietnam's consumer sectors.
In January 2022, Mekong Capital founder Chris Freund published Crab Hotpot, a story about a bunch of crabs who found themselves stuck in a boiling pot. The colorful cover of "Crab Hot Pot," complete with expressive cartoon crustaceans, looks like a children's tale at first glance. But as one continues reading, it becomes clear that the work has an important message about organizational transformation, leadership and focusing on a clear vision for the future.
The book is available on Tiki (Hard copy): bit.ly/38baF8a (Vietnamese) and Amazon: amzn.to/3yWunzG (English)
Follow us on LinkedIn: