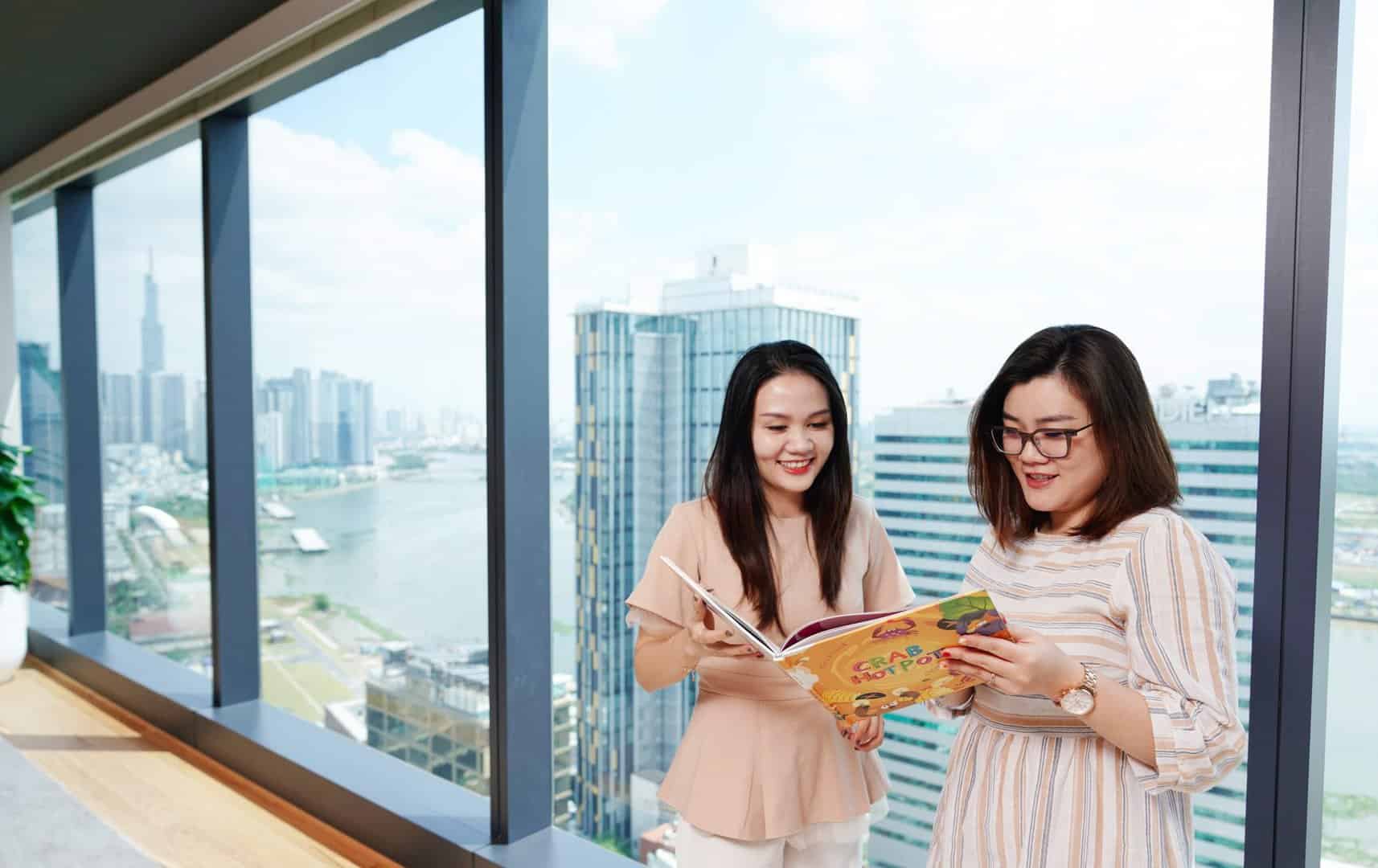 The Ugly Duckling
Author: Nguyen Thi Minh Giang, Director of Talent and Culture, Mekong Capital
Feb 28, 2021
——
I grew up in a small town — Quang Ngai — in the Central of Vietnam. There was nothing special about family or myself except for 'dramas' and a lot of other opinions on the way I was raised and the way I experienced life.
Therefore, I chose to grow up headstrong and I wanted to prove myself to everyone. It immediately hit me when someone commented that "I am not good". I reacted strongly when someone criticized my family background or my education. I always tried to be strong, even to my parents. I remembered one time when I was in an accident, covered with injuries, but I still insisted loudly that "I'm fine" with my parents. I was so afraid that others would find me weak and I didn't want people to pity me because of that.
For a long time, I used all of that fake pretending to protect myself. I didn't want anybody to know about, that "I am not good enough". I didn't want people to see that I was insecure about myself.
In 2010, I got to know about Mekong Capital and I decided to join because of one simple reason: Good company, good salary. I still remembered the day I received the offer letter. I screamed and shouted because I thought my life would definitely change to another chapter — a better one.
But every day, I had to continuously face my fear. One day it was about my English was inefficient and everybody else had studied abroad. The other day was when I was still trying to understand what other people were saying in meetings, my colleagues were already giving sharp discussions. I felt so belittled. Many times, I questioned myself if could 'survive'' in this environment. I felt as if I was the 'ugly duckling' in the kingdom of swans.
But years of trying to be 'good enough' had saved me. I told myself, "I'm still lucky enough to have a job, a nice boss, good salary. I'm fine. Let's continue working for a few years, and then we'll see".
With that in mind, I took advantage of every chance I get. Whatever people taught, whatever I learned, I did not hesitate to try it all on myself. I tried to hold on as I knew that it was not only for the sake of my study but also for the sake of getting paid to learn.
That led me to the first Transformation Coaching Program in my life. Thanks to it, I realized that what had helped me survive was also the shadow that was slowly killing me called,
"I am not good enough".
I was bounded by: 'Growing up in the countryside, or 'Not enough experience' and so on. I also discovered and faced, for the first time, 'what I am committed to'. I could see who I am clearly, and what was stopping me from living passionately and living as myself. The weird thing was, the more I discovered and the more I experienced, the lighter I felt. I dared to live more truthfully with myself, and more honest with people around me.
I learned that comparing myself with people over at the investment team was a foolish thing to do. Everyone has their own strengths and every job is different. I was not good with numbers, but I believed I could easily get connected with anyone I wished to.
As such, in the first 3 years, I officially resigned myself from the word 'NOT' in "I am not good enough". I continued to take on various accountability and was promoted to be at the senior level in the HR Department and then the Director of my HR team. I felt like the ugly duckling had finally found herself a beautiful swan spreads with the gorgeous large wings, entering the water with her family, Mekong Capital.
Fast forward to 2017, I joined the Mekong team in a 3-day exercise to co-create a new vision, Mekong Capital 2025. I clearly felt inspired. With my experience, I clearly knew what we needed to do in order to realize it. I was clearly ready.
I continued to lead my team from what we had done so far: recruiting people, organizing training activities, facilitating some distinction sessions with the same way of being of waiting for the instructions, and avoiding the breakdowns by repeating something we did in the past that we thought it worked. I was pleased with my results.
One year later, I attended another coaching session and discovered that I was moving toward Mekong Capital 2025 but instead of looking from there — from the future — to create my new being and new actions, on the contrary, I chose to continue being the same old me. Painfully speaking, the word 'ENOUGH' was a second shadow that was pulling me back.
Leaving the session and thinking about this, I wanted to transform myself. I chose to be a different person. I dropped the word 'ENOUGH' and stood from the vision without any boundaries. I requested and sat down with my team members to co-create again the vision for our department. It took us one-hour debating "In 2025, what does our team look like?" Finally, the team excitedly declared the future that our team could contribute to realizing Mekong Capital vision:
"We reinvent human resources management, successfully build elite teams, and transform corporate culture."
We immediately changed our laptop screen with the new team vision and replaced the HR team with a new name, Talent and Culture Team.
We were aligned that from now on, that would be the shared context for our actions. Each team member held others accountable for answering the questions "Am I doing this thing to empower Talent and Culture vision to be realized?" or "What can I do now to contribute to Talent and Culture 2025?"
Amazingly, this broke down our preconceived notions, showing us many things that we could do better: (1) digitalizing the NPS form survey, (2) proactively reinvented new ways to approach the candidates, (3) fully responsible for each individual's accountabilities, (4) de-bottleneck as much as possible and many more.
Internally, the Talent and Culture (T&C) team became the core for cultivating the best Employee Experience from recruiting, training, to team building and elevating corporate culture.
Besides that, we began to involve in Mekong Capital's value-creation framework, Vision Driven Investing, at our investee companies. We continued to directly organize training and workshops to help senior staff develop personal leadership and building trust within teams by transforming their communications.
Personally, I found the excitement again with the new game and the new possibilities that I did not recognize before. My identity grew so much more than just being a GOOD person for my kingdom. I could also be someone who can empower others on their transformation journeys both inside and outside Mekong Capital. I took on being a coach to work closely with our investee companies to unlock their potential for Corporate Culture Transformation.
Ten years have gone by since the ugly duckling first landed in Mekong Capital, she is now Mekong Capital's first Partner of Talent and Culture. I found myself leading a flock of beautiful swans gliding and dipping through the sky to conquer new challenges and fulfilling dreams for Vietnam.
From time to time, I came to face the last shadow that lingered for such a long time — being GOOD. For the first time, I took all the courage, to drop that burden.
"I became 'I am___!'"
"Yes, I am NOTHING to experience EVERYTHING."
I reconnected with myself, whom I thought I had to lose to be the best staff possible: A child from Quang Ngai with grit and infinite optimism. I now feel true freedom and I am free to be myself with full self-expression in front of anyone. It is who I am today, both in work and life.
No tiring duckling here. And even, no trying to be a swan here. I rekindle my confidence to BE myself. I am freely gliding through the sky and experience every moment to the fullest. I am whoever I want to be. Just that!
I believe that each of us once felt like an 'ugly duckling', especially when we step out of our comfort zone or declare a new future. In my humble experience, I have discovered the power of letting go of toxic points of view about ourselves. By choosing to transform how I see MYSELF and drop the interpretations/stories that I had, I felt much lighter and free to do more and become more.
Life is full of ups and downs in these unpredictable moments. We could be upset, sad, disappointed, and frustrated. But that's normal and there was nothing wrong with ourselves. So instead of putting negative "shadows" on ourselves, why don't we choose to drop those and open to a new view that empowers us towards a greater future?
---
Click below to subscribe to Mekong Capital's quarterly newsletter.

Mekong Capital makes investments in consumer-driven businesses and adds substantial value to those companies based on its proven framework called Vision Driven Investing. Our investee companies are typically among the fastest-growing companies in Vietnam's consumer sectors.
In January 2022, Mekong Capital founder Chris Freund published Crab Hotpot, a story about a bunch of crabs who found themselves stuck in a boiling pot. The colorful cover of "Crab Hot Pot," complete with expressive cartoon crustaceans, looks like a children's tale at first glance. But as one continues reading, it becomes clear that the work has an important message about organizational transformation, leadership and focusing on a clear vision for the future.
The book is available on Tiki (Hard copy): bit.ly/38baF8a (Vietnamese) and Amazon: amzn.to/3yWunzG (English)
Or follow us on LinkedIn: