What Vietnam has to offer for private equity investments
Author: Chris Freund, Partner, Mekong Capital
Mar 6, 2018
———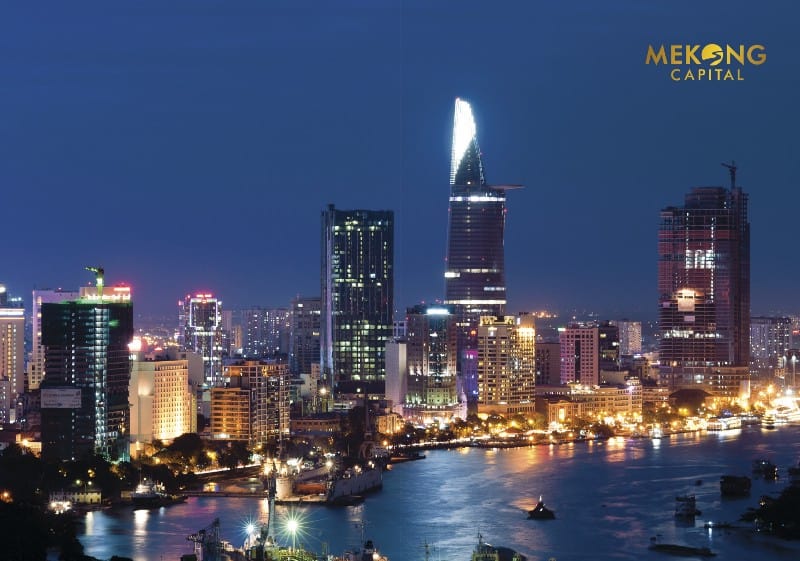 A group of young professionals were having lunch at a Wrap&Roll store on a weekday (Wrap&Roll is a Vietnamese cuisine restaurant chain). Phuong, a 30-year-old bank officer working in the same building with the restaurant, said she often went there for her 1-hour lunch break, and typical dined out three times a week.
Restaurants and retail shops are springing up across Vietnam and seem always busy with customers. In this country, consumption expenditure has been stably growing by 7–8% since 2010, according to the World Bank.
Vietnam, home to over 90 million people, 60% of which are under the age of 35 — being the second youngest country in Asia, is believed to be in its golden age for private equity investing. The country is actively working on improving its infrastructure as well as taking initiatives to reform many industries of the public sector, which creates a huge demand for new types of services such as modern retailing, logistics, private education and healthcare. We have been in this country for more than 16 years, and the consumer market has always been our biggest bet.
Alongside the exciting demographics, Vietnam is also attractive to private equity investing because of these following elements:
Increasing wealth for consumption:
Spurred by an expanding middle class whose income is also increasing, retail sales in Vietnam hit a record high of $130 billion in 2017, representing a 10.9% year-on-year growth. While Hanoi and Ho Chi Minh City are still the most vibrant consumer markets, the development of the industrial economy has also stirred up consumption needs in suburbs and provinces. Being one of the world's fastest growing economies, Vietnam's GDP in 2017 exceeded all expectation to expand by 6.81% after missing target in 2016.
Mekong Capital's invested companies have enjoyed nice growth and developed their nationwide presence. Companies that we have exited recently like MobileWorld (modern concept retailer) and Traphaco (pharmaceutical network) had grown tremendously and let us see impressive exit multiples (especially MobileWorld which we divested for a 57x return). The current portfolio that we have been investing for over a year now are also witnessing strong growth and poised for speedier advancement.
Lots of opportunities (to invest in):
Over the past 16 years of investing, we have had 32 investments and 24 full exits. The private sector in this country provides a lot of opportunities, from retail, healthcare to logistics and education. Official government data showed that nearly 19,000 new businesses were registered within the first two months of 2018. Entrepreneurship keeps on going strong in the country plagued by wars. A large part lured by the development of consumer-driven sectors, this amazing growth of entrepreneurs and companies allows investors to scout for deals and bring their value to the table.
Mekong Capital has a vision of generating at least a 5x return with each of our new investments. We choose to invest in promising businesses who are empowered by good management teams and our added value, and in markets that remain fragmented. There are still areas in the consumer sector with high fragmentation that we just need to unlock their potentials.
We announced three new investments each in the past two years, and we expect to discover more privately owned companies that can execute their breakthrough vision and deliver the anticipated multiples for our funds.
Increasing technology integration:
We believe that all consumer sectors will do well in the years to come, and companies that implement omni-channel retailing will do best. Vietnam has experienced a hype in the tech startup space, but those who can seamlessly integrate online and offline business will better perform than companies purely developing technology.
Our successful investment in MobileWorld has seen them roll out a thoroughly operated e-commerce system while expanding to thousands of brick-and-mortar stores selling electronic appliances, mobile devices and FMCG products. The current invested companies under our Mekong Enterprise Fund III are also undergoing their digital transformation that will lead them to an achievable great breakthrough.
Support for the private sector:
The private sector is the key driver for Vietnam's economic growth, and the government is pushing to promote the sector in recent years. With the liberalization of some investment norms, the foreign ownership limit (at 49%) was removed in some industries, investment requirements for some certain sectors were changed, and several new tax exemption was applied. There might be delays in the actual execution, but we salute these positive policy advancements.
A set track record by investors:
Mekong Capital pioneered in private equity investing in Vietnam, establish ourselves as a Vietnam-focused private equity firm in 2001. A couple of years later, the country started to see other firms, namely VinaCapital (which invests in multi-asset class), Vietnam Investment Group and PENM Partners (formerly BankInvest). In addition to the group of Vietnam-dedicated funds that we are a part of, Vietnam has also been a favorite investment destination for global private equity and alternative investment firms like KKR, Warburg Pincus and TPG.
Mekong Capital's history of investing:
Throughout the 16-year-plus investment period, we have five years in a row received Private Equity International Awards, since 2013, for Operational Improvement, Operational Excellence and Frontier Market Firm of the Year.
Our Mekong Enterprise Fund II, which invested in MobileWorld, was ranked as the best performer amongst Vietnamese funds in 2017 by industry intelligence firm Preqin.
As we are proud of the track record that we've built, it is our underlying approach of adding value to the companies we work with. Our value creation to investees is not just about cash infusion or a wide network of other investors and corporates, but largely about helping them create a breakthrough vision and setting milestones to execute their goals by leveraging each element of our model of Vision Driven Investing.
With this framework, which will be explained in next articles, we aim at setting a new standard in private equity — our own breakthrough vision of consistently generating returns exceeding 5x.
---
Click below to subscribe to Mekong Capital's quarterly newsletter.

Mekong Capital makes investments in consumer-driven businesses and adds substantial value to those companies based on its proven framework called Vision Driven Investing. Our investee companies are typically among the fastest-growing companies in Vietnam's consumer sectors.
In January 2022, Mekong Capital founder Chris Freund published Crab Hotpot, a story about a bunch of crabs who found themselves stuck in a boiling pot. The colorful cover of "Crab Hot Pot," complete with expressive cartoon crustaceans, looks like a children's tale at first glance. But as one continues reading, it becomes clear that the work has an important message about organizational transformation, leadership and focusing on a clear vision for the future.
The book is available on Tiki (Hard copy): bit.ly/38baF8a (Vietnamese) and Amazon: amzn.to/3yWunzG (English)
Follow us on LinkedIn: