Mekong Enterprise Fund IV invested US$25 million in Entobel
Ho Chi Minh City, VIETNAM (09 May 2022) – Mekong Capital announces that the Mekong Enterprise Fund IV (MEF IV) invested US$25 million into Entobel, part of the US $30 million funding round.
Entobel is a biotech company producing insect-based ingredients from Black Soldier Flies for various industries including the animal feed, pet food, and fertilizer industry. Currently, Entobel has 3 main products, which are insect meal, insect oil, and organic fertilizer.
In early 2019, Entobel constructed one of the largest insect production sites in the world in Dong Nai province, Vietnam with an annual capacity of 1,000 tons of insect meal. Looking forward, Entobel's next plant will be operational by 2023 and will respond to rising global demand while supporting the reduction of our global food chain's environmental footprint.
Being based in Vietnam provides Entobel with a significant and sustainable competitive advantage thanks to the tropical climate condition, abundant sources of feedstock from Vietnam's agriculture activities and F&B production, and the growing aquaculture market being the main application of insect protein ingredients.
After 8 years, Entobel has done extensive R&D to perfect the technology to convert food by-products to insect protein on a large scale with capital efficient technology. Having achieved these technological breakthroughs, the company is now ready to scale up its production.
Entobel's vision is to become a leading insect protein producer in the world.
Mr. Gaetan Crielaard and Alexandre de Caters, Co-Founders of Entobel, said:
"We are proud to partner with Mekong Capital and Dragon Capital to build a world class plant before replicating the model globally. We are convinced our capital efficient and robust technology is the right approach to massive scaling up.

With our growing blue chip customer base as well as world class industrial partnerships for breakthrough R&D activities including new product developments, we ensure our market relevance and competitiveness in the long run".
Mr. Sjoerd Zwinkels, Mekong Capital's Deal Leader for Entobel, said:
"We are very excited to partner with Entobel to achieve the exciting vision of becoming to the leading insect protein producer in the world. The Entobel's team is solving one of the big problems in the world by using insects to create a sustainable protein, which will reduce the environmental footprint of our global food chain, while making the food value chain safer and more sustainable. This is a true circular economy as they take by-products, convert them to protein, oil, and organic fertilizer. There is virtually no waste.

We believe in the founders, Gaetan and Alexandre, who showed so much grit and perseverance to build one of the largest insect protein production companies in the world today, starting from a small farm in the Mekong Delta to a large industrial facility in Dong Nai. They have proven that insect derived ingredients can be produced on an industrial scale with high quality and being cost-effective compared to fishmeal."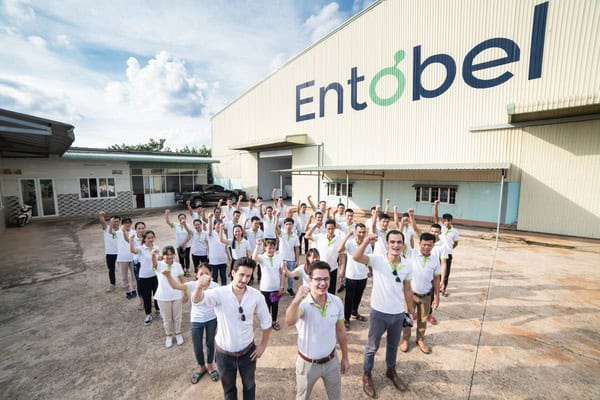 About Entobel
Two Belgian entrepreneurs, Gaëtan Crielaard and Alexandre de Caters, began their adventure in Vietnam in 2013 after realizing the huge potential of insect protein for animal nutrition during their business school years.  They quickly identified Vietnam would be one of the key markets to set up this kind of business. Among the millions of insect species, they chose the Black Soldier Fly[1] and thus, landed in Vietnam to set up the first experiments focusing on this insect biology understanding.
In 2013, Entobel was founded with a mission to close the loop in the global food system by upcycling low-value biomass into functional ingredients thanks to insects. The name 'Entobel' comes from a compound name of an insect ('ento' in Greek for insect) and the company's home country – Belgium ('bel' from Belgium) in English).
In its humble beginnings, the core team has been involved in the process of creating awareness about their products, supporting on field trials, and giving away samples from day one. Now, Entobel team has grown to become a multidisciplinary team of 60+ members covering all key aspects of the business model. The teams with their robust R&D capability ensure consistent and continuous improvements of their production systems and are ready for global expansion.
Looking forward, with the vision to become the largest insect protein producer in the world, Entobel plans to further develop its production capacity with new site developments in the Region.
Entobel is the seventh investee company announced by Mekong Enterprise Fund IV.
For more information about Entobel, please visit the firm's website at www.entobel.com.
[1] Entobel specifically chooses the black soldier fly thanks to a number of reasons: 1) safety: this insect species has never been associated with any disease transmission, 2) native: it is naturally present in tropical countries, 3) high quality nutrients: proven by various feed trials, and 4) efficient bioconversion: in just a few days it is able to convert almost any kind of organic material thanks to its efficient gut microbiota.
About Mekong Capital & Mekong Enterprise Fund IV
Established in 2001, Mekong Capital has the most extensive private equity track record in Vietnam. Their funds have completed 42 private equity investments, of which 28 have been fully exited. Mekong Capital has advised 5 funds, and 2 are currently active.
Mekong Capital's investee companies have typically been among the fastest-growing companies in Vietnam's consumer-driven sectors such as retail, restaurants, consumer products, and education. Some of their well-known investment successes include Mobile World, Phu Nhuan Jewelry (PNJ), ICP, Golden Gate, Vietnam Australia International School (VAS), Masan Consumer, Traphaco, Pharmacity, F88, YOLA, Pizza 4P's, Vua Nem, ABA Cooltrans, and Nhat Tin Logistics.
Mekong Enterprise Fund IV is a private equity fund launched in January 2021 and currently has $246 million in committed capital. Mekong Enterprise Fund IV will continue Mekong Capital's successful strategy of investing in growth-equity investments in Vietnamese companies and exclusively in proven consumer-driven sectors that benefit from the growth in Vietnamese consumer demand and the adoption of modern business practices. The Fund will focus particularly on retail, education, restaurants, consumer services, FMCG, and health care including Marou, Mutosi, HSV Group, LiveSpo Global, Rever and Gene Solutions.
Mekong Enterprise Fund IV applies Mekong Capital's Ontological Private Equity approach and the Vision Driven Investing framework with an intention to fulfill its commitment for each investee company to achieve its vision.