Do you really want to partner with the leader you are recruiting for?
Author: Duong Quach, Talent & Organization Stewardship Manager, Mekong Capital
——
Early this year, I took on a challenging recruitment project for one of our fast-growing investee companies. I came to the first discussion together with Minh Giang, my mentor. Although I was working with the company for a while, this was the first time that I had the chance to work in person with the CEO directly. I was quite nervous.
During the meeting, the CEO powerfully shared with us:
"This time, we're NOT just looking for someone to fill in the gap and to just get the business moving. BUT we're going to look for a high-performing and energetic leader who is committed to our vision so that he or she will not give up easily and is willing to grow with our business."
"Wow! That was a very ambitious goal", I thought. And while was still pondering in my head what I could say and whether I should say it, Minh Giang had already replied:
"With the company's growth, there would not be comparable profiles to look for in Vietnam. But we will find a way."
When the meeting finished, Minh Giang got my hesitancy, she asked:
"Seems like you were not confident enough to talk to the CEO?"
I did not reply to her as I felt l should focus on my goal, rather than explain how I felt about interacting with the CEO. I dove back into my job and diligently approached all the top-tier candidates. I've spent hours after hours mapping and calling candidates and finally managed to shortlist 3 applicants, one of which I believed would be perfect for the job. I shared with the CEO but he declined to meet. "It's their decision and the CEO would definitely know what he wants", I thought. So I let it drop and waited for his feedback after interviews.
A few days later, he said:
"It looks like we got one potential candidate, but I could not feel that she would be committed to our vision."
At that time, what I wanted was to seal the deal, and the back of my mind told me that "He may have not spent enough time to pull that candidate towards the company vision." So I asked to join him in the next 3 interviews to have my personal experience.
Turns out, the more I was with him, the more I got inspired by his leadership and his commitment. I gradually realized that I was driven by the negative noise about him. I was afraid of him. I avoided talking to him. I judged him.
To my surprise, his commitment was beyond the company's goal and their professional contribution. His commitment deep down was to help his team to fulfill their personal commitment and life purpose and he chooses to relate to each person as their personal commitment rather than just a CV on paper. What's an inspiring leader he is! I felt myself and our candidates were very inspired by the company vision through his leadership. My commitment to this project was no longer just about me doing my job. I told myself:
"This is my mission. I cannot fail this recruitment. I cannot fail our future. This person is going to determine the success of our investee's vision and ripple the positive impact on millions of Vietnamese. I must not give up!"
I kept searching and was unstoppable in approaching candidates to candidates by utilizing my sources, networks, and skillsets to look newly into the market and find that one candidate. I openly shared with the CEO my concerns and asked for his feedback after each interview. The more we talked, the more we found out that we shared the same vision for the future of this recruitment. We kept trying for a few more rounds; however, no matter how hard we tried none of them were qualified in the end.
In the last interview, he tiredly sat down on his chair. We were about to give up. He turned to me and shared:
"I always knew what I wanted for my team, but this time it seems like I'm lost, and I don't know if what I want is possible or even right?".
I could feel empathy for his burden as a leader and the sadness in his eyes. I asked myself, "Who can I be to empower him?". Suddenly, a thought came to my mind. I was not comfortable talking to the CEO about the candidate that I felt confident with back then. But now that both of us could relate to each other as our shared commitment to the company's vision, I openly shared with him about her and how I believed she would be the best potential candidate. Then I asked him:
"To be honest, what's stopping you from meeting with her?".
He was surprised at first. But then he started to raise his eyebrows, thinking hard. Finally, he agreed, "Okay! Let me meet with her then."
After they met, from conversations to conversations, they found out that they shared the same vision and language on leadership and people development. The CEO finally said, "Thank you for bringing her to us. Thank you for taking a stand for our vision. Let's proceed with the offer".
I was thrilled. My heart was screaming out loud. I felt like I was walking on the cloud and the moon with my own feet.
Through this journey, I have discovered that this success resulted from who I am being. When I was being a space to listen and be with the CEO, I got to fully understand his world and his great commitment to the company's future. When I choose to take a stand for the company's vision, that's when we become partners to achieve our shared vision for that future.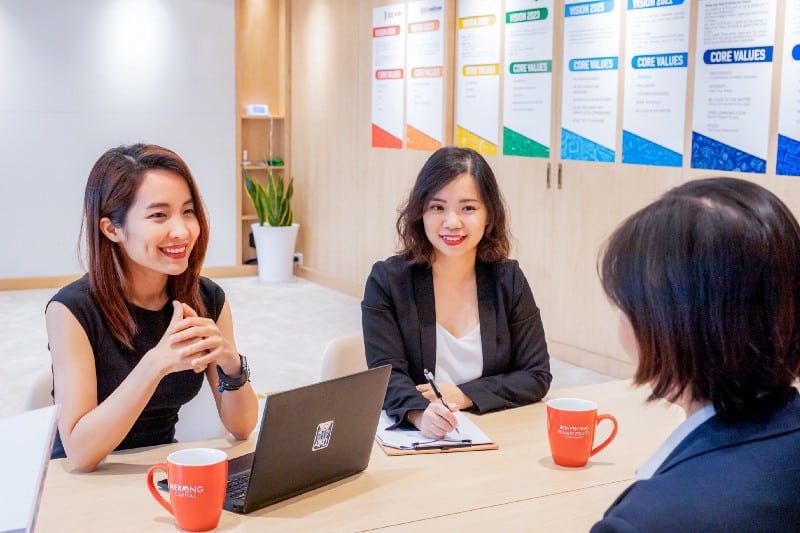 Nov 3, 2020
---
Click below to subscribe to Mekong Capital's quarterly newsletter.

Mekong Capital makes investments in consumer-driven businesses and adds substantial value to those companies based on its proven framework called Vision Driven Investing. Our investee companies are typically among the fastest-growing companies in Vietnam's consumer sectors.
In January 2022, Mekong Capital founder Chris Freund published Crab Hotpot, a story about a bunch of crabs who found themselves stuck in a boiling pot. The colorful cover of "Crab Hot Pot," complete with expressive cartoon crustaceans, looks like a children's tale at first glance. But as one continues reading, it becomes clear that the work has an important message about organizational transformation, leadership and focusing on a clear vision for the future.
The book is available on Tiki (Hard copy): bit.ly/38baF8a (Vietnamese) and Amazon: amzn.to/3yWunzG (English)
Follow us on LinkedIn: