Our greatest weapon that wins us the war
Author: Nguyen Song Huu Thi Cong Tam, HR Director of Nhat Tin Logistics
22 September 2022
———
After nearly 20 years working in the field of Human Resource Management and Corporate Social Responsibility, the position of HR Director at Nhat Tin Logistics  was my next career jump in 2019. My commitment is to build a happy working environment where employees have a sense of pride and belongingness to the company with shared core values.  
As I stepped in, Nhat Tin already possessed an actionable and result-driven set of core values, where the management board from the CEO and Chairman were the leading examples of them. "Reliable, Trustworthy, Warrior" were consistently and visibly communicated within our organizational conversations to guide our actions. I naturally embraced this spirit and powerfully started a company-wide campaign of "Nhat Tin culture stories – we proudly live the three core values" to share and acknowledge the success stories of our warriors living and working with our core values. It was encouraging to see the talk shows led by the branch managers, and our "Nhat Tin core value day" were always filled with people. 
Nevertheless, 4 years of joining with 2 years combating Covid, the loss of people connection felt real and threatening to me. That was when I began to seriously question whether the stories that were told or the events that I organized really made an impact. 
While deep in my thoughts, I ran across a story shared by an employee at the district post office. I want to share this story with you and see if it strikes you as deeply as it did me. 
———
As the daily clock stroked 8 a.m., Le Quynh An, Operations Team Leader at the Tan Phu – Tan Quy District post office (HCMC), rushed to the office to manage the delivery orders to be sent on time to the Bau Cat post office. 5 p.m, while carrying her 1-month-old infant, she waited for the shippers to return, made payments for the day, entered the inventory, and then left work at 7 p.m. Her life was busy in a manageable, organized routine. 
Little did she know her life was going to be turned upside down. The summer from June 2021 marked history in the mind of Vietnamese people as the fourth and biggest outbreak of the Covid wave at HCMC. As a single mom, Quynh An struggled with a desperate choice: stop working and stay at home with her infant son and hope for government aid, or continue to work, risking herself and her son to the ravages of Covid? 
She was not the only one with many struggling thoughts. Those were days of late-night meetings of Nhat Tin's board of directors where we discussed and argued whether to stop operations and wait for the pandemic to settle down or keep moving on with operations. 
Finally, the decision was made. Our company partnered with the Department of Industry and Trade to launch a campaign that provided vegetables and fruits to citizens in need all across the city. Quynh An made her choice as well – to be a part of the Nhat Tin team. She strapped her son to her chest each day for the scooter ride to the post office. The workdays were long that summer. Quynh An and the other staffs spent long hours preparing countless bags of onions, carrots, potatoes, and mangos for other colleagues to deliver. 
Her son became a part of the busy center. They all took turn making sure work were done while Quynh An's son still being fed and taken care of. Between feedings, the little boy slept on stacks of boxes or on piles of bulging bags as the busy din around him supplied needed food across the city. 
In August 2021, the Government issued a directive that people were not allowed to go out, the "3-on-site" model was implemented, and only shippers, who had negative covid-testing certificates issued by the government, could go out. She never wavered. Rain or shine, Quynh An and her son, strapped tight to her chest, still completed their deliveries. Neither the heavy loads of goods nor the lonely, quiet streets made the young mother flinch, not when there were those small arms of her son hanging on to her so dearly.
Quynh An often worried that her son was being forced to endure a lousy start to his new life. Then she thought of how lucky he was to be surrounded by all of these smiling faces that helped care for him. Ultimately, she said that it was the people around her—her Nhat Tin coworkers—who got her and her baby through that difficult yet memorable summer. 
———
That was one amongst nearly 200 stories, videos and photos that were shared in the past 2 years of the campaign. Even during social distancing periods, our talk shows were consistently held online.  
As I was reading Quynh An story, I held the answer that I needed: My efforts were not in vain. Our core values are not only communicating from the top levels but are alive in the hearts of our employees and leading our actions. By end of 2021, our employee retention was 95%, far beyond other competitors in the industry. Chairman Nguyen Cong Cat acknowledged: "Only when we face the storm, we experience how the strong corporate culture helped us. It makes me and our team members believe more in our choice and willing to devote ourselves to the company's future". 
There are many untold stories of our responsible, trustable warriors, just like Quynh An. They are the greatest secret weapon that Nhat Tin possesses to overcome the most desperate time. Thanks to them, even with the crash of Covid, we were still able to deliver 95,000 tons of goods, representing 31% year-on-year growth. 
My journey marches on as I will continue to review and renew the company's core values to be the source of empowerment for Nhat Tin people in the face of emerging difficulties and challenges on the way to fulfilling our Vision.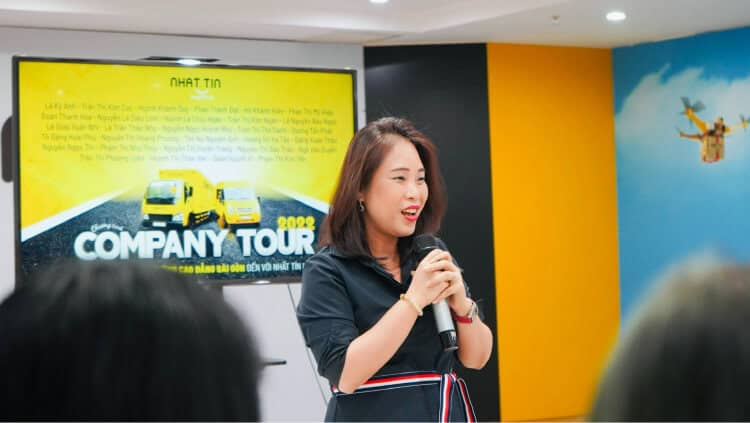 ---
Click below to subscribe to Mekong Capital's quarterly newsletter.

Mekong Capital makes investments in consumer-driven businesses and adds substantial value to those companies based on its proven framework called Vision Driven Investing. Our investee companies are typically among the fastest-growing companies in Vietnam's consumer sectors.
In January 2022, Mekong Capital founder Chris Freund published Crab Hotpot, a story about a bunch of crabs who found themselves stuck in a boiling pot. The colorful cover of "Crab Hot Pot," complete with expressive cartoon crustaceans, looks like a children's tale at first glance. But as one continues reading, it becomes clear that the work has an important message about organizational transformation, leadership and focusing on a clear vision for the future.
The book is available on Tiki (Hard copy): bit.ly/38baF8a (Vietnamese) and Amazon: amzn.to/3yWunzG (English)
Follow us on LinkedIn: