Two qualities of a successful Agile Product Owner
Author: Pham Thai Thanh Ngoc – Digital Transformation & Marketing Manager, Mekong Capital
Jan 31, 2023
——–
I have been on various digital transformation journeys with many investee companies. However, this particular story is about the time I coached a fledgling Product Owner [1], Pham Le who led an important project of Marou. It has inspired me to see the essential values of the Product Owner's commitment: first, to transform himself to become a committed leader of the project, and second, to develop his leadership ability to lead his team towards the Agile project's success.
Here is how Pham now describes Agile, "Agile is the most effective project management method he has ever experienced. Just like a steam train, everyone on the Agile train must operate it together. While the Product Owner is the driver steering the train to the finish line, other members are as important as some find firewood making sure there is enough steam to keep the train going; some take care of the cargo on board. Each has an important role on that train. And every stop at a station (end of Sprint), the whole team stops and sees where the train is damaged, then fix it, and figures out how to make the train run faster to reach the finish line. During the journey, obviously, there are some on-board and off-board at each station. The train workers who have no job or are not suitable anymore, they can get off the train and pick up new workers as well."
Sure. Easy for him to say with confidence and authority after finishing the project. But Pham did not talk with that same confidence 2 weeks into this Agile Project. Almost 90% of Agile projects fail—usually in the 2 to 4-week period (Sprint 2). And the company – Marou, had tried Agile once before – with no success. It looked to me at the beginning that this project was also set to fail. It would all be up to Pham.
——–
In the middle of Q2/2022, Pham, a young Cacao Project Coordinator, was assigned by the CEO to take over the "Marou Cacao Traceability" project with the goal of bringing the cocoa farmer community on a mobile app and Marou will use QR codes to trace the origin of cocoa beans and trees, from planting to fermentation processes.
This project has been prolonged and at the beginning, Pham took on the project following the old way – he struggled with the title of coordinator in the next 2 weeks. He couldn't voice himself as the owner of the project and hold the vendor accountable for a fixed deadline and clear deliverables.
"Clearly, this way the project was going nowhere, I had to step up and redefine my role in the conversations with the vendor", he pondered while observing the delay in the Indian vendor's response. In the follow-up engagement, he put himself as Marou's representative working with the vendor on a win-win project that if completed with bring a reputation to both parties. With the new context and perspective, Pham let go of his inferior complex to be confident when working with the vendor, asking to clarify the timeline and agree on the new terms before officially re-start the project.
——–
Jump forward to Q3/2022, I was coming to Marou to coach the team on implementing Agile with high commitment and support from the CEO to kickstart digital transformation at the company. That was when I was introduced to Pham and Marou Cacao Traceability project.
I quickly arranged a 2-hour training session for the Product Owner Pham and a Scrum Master [2] to coach them on Agile basic knowledge. Despite my enthusiasm for how fundamental Agile is to accelerate a project's success, I still read the worry in Pham's eyes. Not only was this the first project in the digital transformation phase of the company, but it also was partly funded by a Development Finance Institution. Hence as the Product Owner, Pham now faced double pressure to be responsible for the success or failure of this project implementation in a new way (Agile) at Marou.
On August 8, Pham started his first Sprint with an Agile team of 5 people from different departments. The following two weeks went by pretty well and the team achieved most of the goals for Sprint 1. The team was eager to move toward Sprint 2 with more technical goals, and the struggle started here.
——–
Some team members were late for meetings, absent from Daily Scrum sessions, or if they were there, they were also superficial. The tipping point was the Sprint Review session: Despite achieving only 60% of the milestones, there were very few words to share about the experience, or how the team could work better to create faster results. Pham felt something was very wrong: the Review session was supposed to be important, but everyone seemed to be finishing up quickly.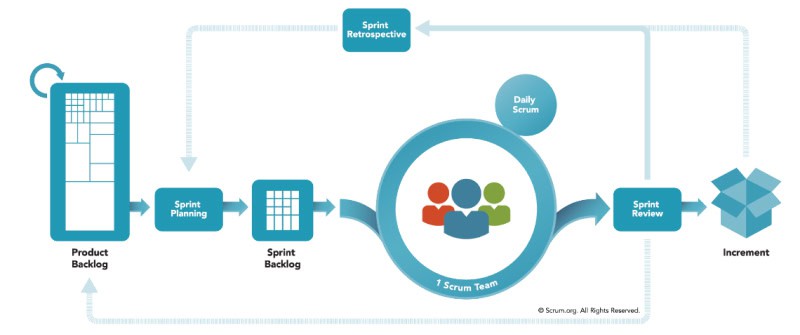 Agile Scrum Framework (Source: Scrum.org)
Observing how this project has felt into a similar pattern of struggle, I invited Pham to my Product Owner training session right after – which was an important coaching session that I set up in advance from the Agile training series.
I spent most of my time listening to Pham: He recognized that people were not present in the project. The team was moving away from the big goal of the project. Looking back, he realized the way people kept silent when being assigned to tasks was when they disagree, rather than agree. As the result, the whole team's commitment was shaken.
Seeing how frustrated Pham felt about his team being closed off from sharing and alignment, I softly summarized: What I'm going to say might be disappointing to you, I hear something is missing here, something important here has not been done…
I continued:
Have you asked your team if they have the same project goals as you have?
Do you think your team has enough information on the big picture of the project?
Do you know how your team members connect their personal goals to the project's goals, and furthermore, the company's goals for this year? 
Pham kept silent. I felt like I just threw a bucket of cold water to wake Pham up: "When you have the answers to the above questions, I think you will know why they are often silent and lack integrity."
Pham answered: "I know what to do next." 
——–
Pham immediately booked a meeting with the team to conduct a re-orientation session. Pham chose himself as the source of everything and was the first to share his own difficulties: Pham had never led a project with a similar scope and admitted that he did not have ownership at the beginning. But when Pham decided to change his perspective, he decided to be the leader to implement the project. Working, learning, and gaining experience was the main working motto of Pham.
With all his sincerity, Pham asked the team members to open their hearts and share their personal goals when working at Marou, and what value they wanted to bring to the company. When a space of listening and re-connecting was opened, Pham invited everyone to recall the Definition of Done of the project (DOD) that they have agreed upon, what it looked like, and as a contributor to that successful picture at the end of the project in December, what it meant to them and how it linked to their personal goals.
One by one shared. Thoughts were heard, and feelings were acknowledged. On top of that, the project's context as a big picture has now been re-drawn, with each member being an artist contributing to that picture.
That was the moment when Pham's leadership truly transformed. I was proud to see Pham let go of his frustration as a lonely leader to open up and re-connect the team, listen and get the whole team aligned to continue implementing the project. When the whole team reached a consensus, they soon achieved their first breakthrough in Sprint 3: a 100% completion of the third DOD.
——–
And on December 9, Pham and the team announced that the whole project was achieved, completing 107% DOD, 3 weeks earlier than the committed deadline. Pham and his team have achieved the unthinkable: to complete the project that had lasted from November 2021 within just 3 months.
I was pleasingly surprised by what Pham did in the project. Pham showed up as a leader with charismatic technique in connecting and alignment skills during a team re-orientation session. Agile project operation skills at Marou are improving day-by-day and bringing breakthrough results to the company's digital transformation with Cacao bean traceability and Store opening projects.
When sharing this story with everyone, I am happy to know that Pham got promoted to Manager level for his great contributions to the company. Pham was stepping out of his Coordinator position to transform into a person with high ownership and leadership ability – two key factors that determine the success of the driver in steering the Agile steam train to its finish line.
---
[1] Product Owner, [2] Scrum Master: 2 main roles in an Agile project.
---
Click below to subscribe to Mekong Capital's quarterly newsletter.

Mekong Capital makes investments in consumer-driven businesses and adds substantial value to those companies based on its proven framework called Vision Driven Investing. Our investee companies are typically among the fastest-growing companies in Vietnam's consumer sectors.
In January 2022, Mekong Capital founder Chris Freund published Crab Hotpot, a story about a bunch of crabs who found themselves stuck in a boiling pot. The colorful cover of "Crab Hot Pot," complete with expressive cartoon crustaceans, looks like a children's tale at first glance. But as one continues reading, it becomes clear that the work has an important message about organizational transformation, leadership and focusing on a clear vision for the future.
The book is available on Tiki (Hard copy): bit.ly/38baF8a (Vietnamese) and Amazon: amzn.to/3yWunzG (English)
Follow us on LinkedIn: