My first month at Mekong Capital
Author: Sophia Trang Chu, Senior Investment Associate, Mekong Capital
———
The day I received an offer from Mekong Capital with the role of Investment Associate based in Hanoi was also the day when I received the news that I would have a one-month onboarding program in Ho Chi Minh City. "One month to onboard in HCMC!? What could possibly take that much time?", I pondered. I've heard that the company has a robust corporate culture and unique investment approach, so I was a bit "shocked" and curious at the same time. From my past working experiences with both local and multinational companies, I had never heard of such a long onboarding program. It was my first shock with Mekong Capital.
Then, my first day finally came. I arrived at the HCMC Office and was welcomed by the lovely admin team member. She walked me to my desk, which looked full of adventure. Everything was arranged perfectly on my desk with a laptop, a big desktop screen, a beautiful bouquet, and a full gift box with many things inside (Mekong Capital T-shirt, red cup, business card, taxi card, etc.). I have never experienced this before, so it was amazing to feel so appreciated. It was my second shock moment with Mekong Capital.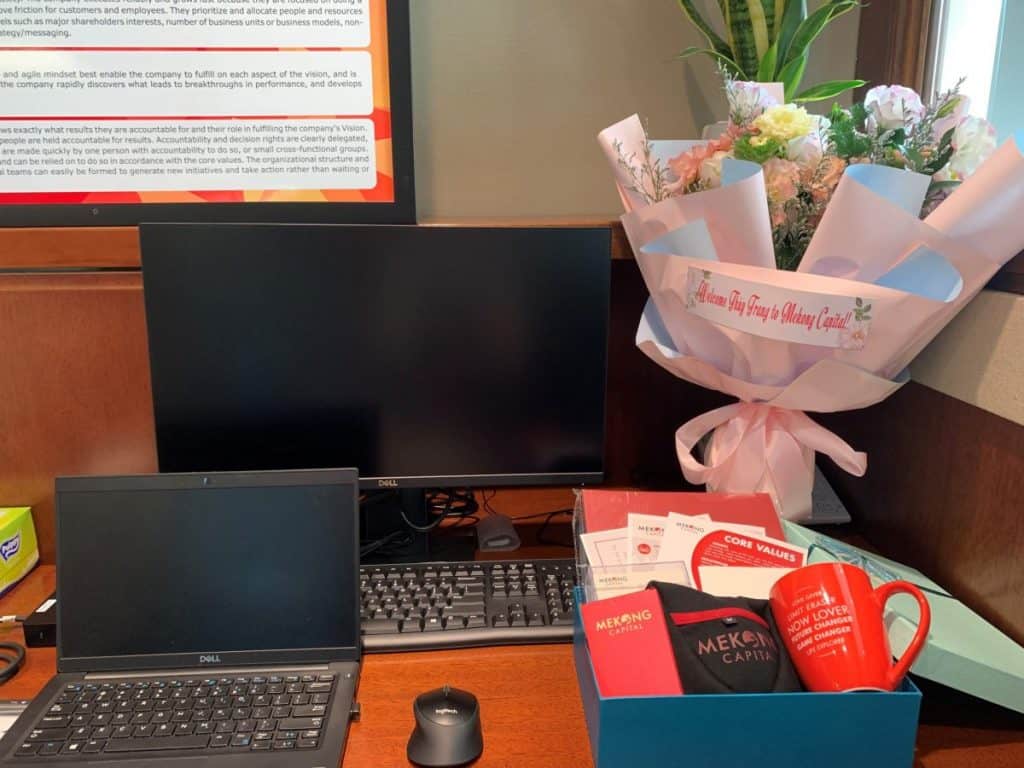 After discovering what was inside my gift box, I logged in to my laptop successfully, following the IT instruction paper given inside my laptop bag. The first thing I did was open my Outlook, and there were so many new emails already there! Most were about meeting invitations with very long titles. It took me a while to find out the purpose of these meetings/sessions.
I remember clearly on the third day, I had an exciting discovery from the "Ontological" session. At that time, I was not at all clear about the purpose of that meeting even though I read the invitation many times. There were about 16 people in that session, including new and current Mekongers from different teams. Everyone followed the coaching to share our personal stories. As the sharing unveiled emotions, so many people cried, including me. I cried so hard when listening to others' stories and when I told my stories as well. After that day, I went home and felt extremely 'unusual'.  And it was my third shock at Mekong Capital.
One of my friends' words popped into my head "I heard that Mekong Capital is following a very strange culture." My head was totally confused by all the good feelings and unfamiliar emotions, but I felt so clear that everyone at Mekong Capital was authentic and got closer after that session.
In the following weeks, there were four core value sessions. I started to discover and learn the core values by myself, and I also read stories after studying each core value. Attending core value sessions helped me see how beautiful each core value is. I was always so excited to go to the core values sessions because each coaching was lively and easy to follow. As I quickly started applying each core value to myself and at home with my family, I felt so ineffable. It was an unexplainable feeling that kept me thinking, "If a person had all those core values, I can not imagine how happy and successful his/her life would be"?
Besides, I had the first session with Ms. Dieu Le – Partner, to discover the power of organizing around what will have the biggest impact towards achieving our committed outcomes. I shared with her and everyone that "No one had ever told me that I will never get it all done!" And many people said to me that "If you manage your time well, you could get more done each day." Dieu Le smiled, and I was confident that she really sensed my feelings. After studying her session, I also shared that I understood why I often said to myself at the end of the day that "I did not complete my work today even though I was so busy!". I had just realized that I got distracted by so many things without keeping sufficient time for my priority task of the day.
There was a weekly session for new team members to share and discover how everything connects to Vision Driven Investing framework and the company's vision. I remembered that I was inspired by one of my teammates when she shared her vision statement. So, I also started to write about who I want to be, my personal vision, and how my dream connects to the company's vision. After writing down my vision statement, I felt so powerful and read it again and again. The more I read it, the more I seemed to be living into my future.
I realized that I gradually transformed after each session of the onboarding program. Before joining Mekong Capital, I thought I was a non-creative person. Therefore, whenever there were group activities, I was always the follower as I believe I can not come up with any interesting ideas. However, I realized that I was becoming a new person during the onboarding sessions. I realized that I could initiate new ideas and my team members often looked for my contribution.
I started to link everything together, and I felt so right. Since joining Mekong Capital, I shared my stories with others authentically, and I had more empty space. After that, I was present with my listening and accepted all the new knowledge, new possibilities entirely, and no judgment from my past experiences. I felt so right about "As long as we are 'being' those core values, we will work here so comfortably, work well with others, and contribute to the investee companies' vision, Mekong Capital's vision as well as our personal vision."
Wow…. It was like an AHA moment for me, and it seemed so clear to me and answered all my questions. "Why did I have to share my past experiences with everyone? Why are those core values so important here at Mekong Capital? Why does mission control play a significant role in Mekonger's life? Why do people always ask what my intention and vision are?" Now I could appreciate why Van Ha from Talent & Organization Stewardship team kept telling me on the day that I had a discussion with her about the job offer letter: "If you are that person, you should not be in Mekong Capital." It was all about recruiting the right person for the company.
I want to give a special thanks to my mentor, and everyone who has been involved in creating the new onboarding program. Even though it felt a bit weird for me at first, I now feel so right about joining Mekong Capital and feel so motivated when seeing the words "Mekong Capital Vision Fulfillment Center" every day coming to the Office.
After my first month at Mekong Capital, living with those core values in my daily life, reading about 5% (a very small portion) of our stories, and talking and sharing with other Mekongers, I am becoming a better person each day. I have also realized that Mekong Capital's onboarding program is so much different from my past experience.
"It is about transforming into being my best possible self."
It's about recreating who I am and who I will be so that I can transform how I deal with others and with myself. Now the new me is so excited to be "on the field" as soon as possible."
Jun 28, 2020
---
Click below to subscribe to Mekong Capital's quarterly newsletter.

Mekong Capital makes investments in consumer-driven businesses and adds substantial value to those companies based on its proven framework called Vision Driven Investing. Our investee companies are typically among the fastest-growing companies in Vietnam's consumer sectors.
In January 2022, Mekong Capital founder Chris Freund published Crab Hotpot, a story about a bunch of crabs who found themselves stuck in a boiling pot. The colorful cover of "Crab Hot Pot," complete with expressive cartoon crustaceans, looks like a children's tale at first glance. But as one continues reading, it becomes clear that the work has an important message about organizational transformation, leadership and focusing on a clear vision for the future.
The book is available on Tiki (Hard copy): bit.ly/38baF8a (Vietnamese) and Amazon: amzn.to/3yWunzG (English)
Follow us on LinkedIn: