Le's first dream to be a teacher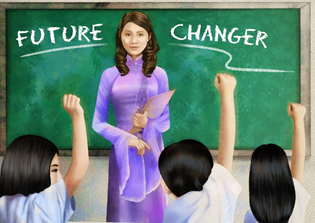 At the age of 8, Dieu Le got her parents to arrange for her an English teacher to give her private English lessons twice a week. Inspired by the good-looking and kind teacher, Le started to play the teacher-student game by herself when she was home alone and was pretty much enjoyed it.
Life went on, sweet and kind, and Le kind of forgot how happy she was when she acted as a teacher.
Seventeen years later, Le graduated with her MBA from the US, returned to Vietnam, and joined Mekong Capital in 2003 as a Research Assistant in the investment team. Then she moved her way up to becoming a Deal Leader 2 years later. When the company expanded, Le took on additional accountabilities and found out she really enjoyed leading the middle office team to deliver results. That was when she decided to accept the role of Director of Operations of Mekong Capital in 2008.